5 Common Questions About Playing the Guitar
Learning a musical instrument. Aside from a new language, this is probably high up on most of our lists. Since we're all for new experiences, why not finally give it a shot? And to help, we're going to start by answering some of the most common questions we've heard about learning to play: The Guitar.

By Jamali, our catalogue manager.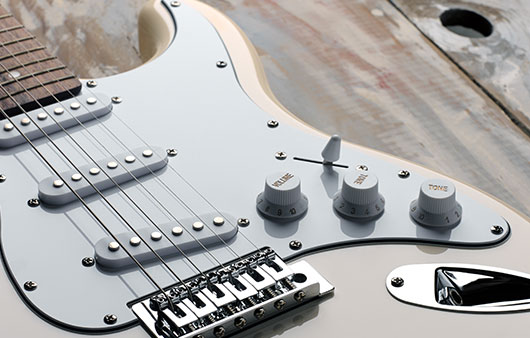 Should I start with an Acoustic, Classical or Electric Guitar?

The most common misconception when it comes to learning the guitar is: "You have to start on an Acoustic or Classical guitar and then move onto an Electric Guitar." But that's totally untrue. We say: start with whatever you like. A good rule of thumb is: Buy a guitar you can use to play the music you want to play. If you like to strum and sing along, an Acoustic guitar would probably be a good choice. If you're into Rock and Metal, then an Electric Guitar would be the best way to start churning out those riffs and guitar solos. Oh, and buy a color you like: the more you like how your guitar looks the better the chances you'll want to play it (fact!)
Should I get lessons or learn all by myself?



While there is no substitute for lessons from a qualified teacher, there's no reason why you can't get started all by yourself. The internet has made it extremely easy to teach yourself pretty much anything, and the guitar is no different. There are several Youtube channels (like Justin Guitar, for example), as well as Apps, that are easy to follow and fun to play along with, making it easy to start your journey.
---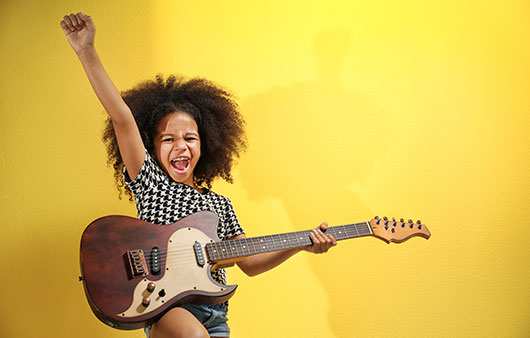 Playing the Guitar will take too long, where will I find the time?



Sure, dedicating hours a day to the guitar will speed up your progress. But is it necessary? Absolutely not. 30 minutes to an hour a day is ample time to develop those skills and get you on your way to learning your first song, guitar solo or first original composition.
Should I start with the most inexpensive guitar I can find then buy something better later?



This, sadly, is one of the reasons many beginners start and stop shortly after. The most inexpensive guitars are almost certainly going to be difficult to play and tune. This can be frustrating when starting out. In fact, we believe it's more important for a beginner to buy a good guitar. Something that's easy to play, stays in tune and sounds good. Fortunately, guitar-makers like Yamaha and Fender consistently make outstanding instruments aimed at beginners that are both affordable and easy to play. Guitars like these will work with you (not against you) while you're learning the ropes.
What size guitar should I buy?



Well, there are quite a few sizes available and it can be quite confusing at first. We'll address the most important question here: "Should I buy a smaller guitar if I have small hands?" No. If you're an adult, you're better off with a full size guitar. The below is a general guide to what size guitar you should buy based on age:

2 to 5 Years: 1/4 Size
5 to 8 Years: 1/2 Size
8 to 12 Years: 3/4 Size
12+ to Adult: Full Size