Marinated Kale Salad
Meet Lucy Bettoney. The Dubai-based wellness enthusiast and devout foodie is also the author of the online blog Fit Food Collective. Aimed to inspire, Lucy's website acts as a platform for her vast knowledge on mindful living – with a decided focus on health, nutrition and fitness. The food and health aficionado shares one of her favorite recipes with us: Marinated Kale Salad!
Find more of Lucy's recipes and tips on food, body, mind and travel on her blog www.fitfoodcollective.com!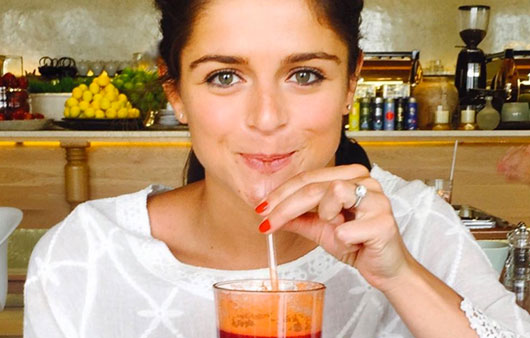 "Since my healthy eating began, I have become amazed by all of the great things you can do with kale.
Beforehand, I had only eaten kale boiled and found it extremely unappetising to say the least. I was thrilled when I realised how good this super vegetable tastes marinated, sautéed, roasted and mixed up into a smoothie."
---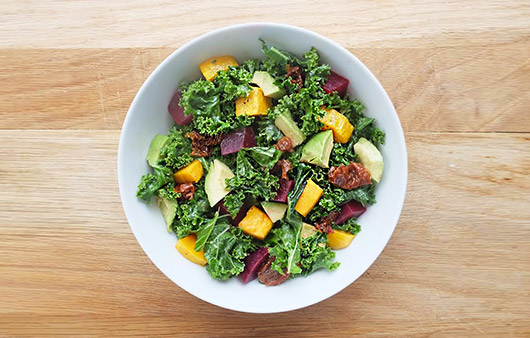 "Along with the beetroot, squash, avocado and sundried tomatoes this is one of the tastiest lunch or dinnertime meals. Packed with goodness and an array of veggies, each bite smacks with different flavours.
I especially love this recipe when I've been really organised at the weekend and pre-cooked the beetroot and squash to keep in the fridge. Then its ready to make the salad really quickly when you don't have much time on week day evenings.
A definite repeat recipe winner!" - Lucy Bettoney
Ingredients
Serves 2
• 4 large handfuls of kale
• 1 beetroot
• 1/2 medium butternut squash
• 1/2 cup sundried tomatoes
• 1 avocado
• 1 tbsp tahini
• Juice of 1/2 lemon
• 2 tsp tamari (gluten free soy sauce)
• 1 tsp apple cider vinegar
• 1 tsp maple syrup


Instructions
1. Preheat the oven to 180 degrees. Roast the beetroot (wrapped in silver foil) with the skin on for about an hour until cooked through.

2. Chop the butternut squash into bite size chunks then toss it in olive oil, salt and pepper and cook for about 30 minutes.

3. Tear the leafy pieces of kale away from the tough stalks and place in a bowl. Pour in the tahini, lemon, apple cider vinegar, maple syrup and tamari. Use your hands to firmly massage all of the ingredients into the kale leaves. As you do this you'll see the leaves soften and wilt. Keep massaging the kale for a few minutes to make sure the kale is really soft. Chop the avocado and sundried tomatoes into bitesize pieces.

4. Once the beetroot and the squash is cooked allow it to cool for a few minutes.

5. Peel the skin from the beetroot and chop it into pieces. Stir the beetroot, avocado, squash and sundried tomatoes with the marinated kale and serve!