Eggplant Fatteh by Aline's Cuisine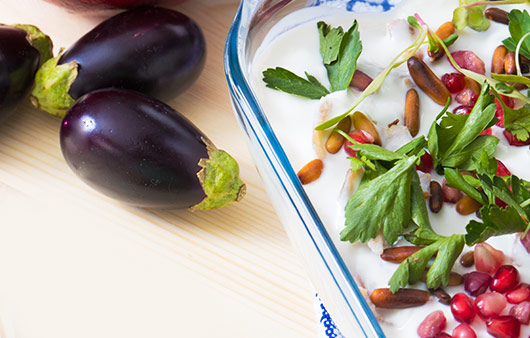 "Fattet Batenjan is a traditional Palestinian recipe. My dear friend Rula is an expert in making this dish. Follow this recipe, you will be too!"
About the Author
Aline's Cuisine is a collection of traditional Armenian and international recipes that translate into mouthwatering dishes that are easy to prepare. Aline draws inspiration from her love of cooking, which started at early age in her father's kitchen.
---
• 1500 gm large eggplants
• 2 cups cubed & fried pita bread
• 2 cups vegetable oil (for frying)

Sauce
• 500 gm minced meat
• 2 medium onions (peeled, washed and chopped)
• 3-4 medium tomatoes (washed and diced)
• 2 tablespoons pomegranate molasses
• 1/2 teaspoon red chili powder
• 1/2 teaspoon allspice powder (bahar helou)
• 1 teaspoon salt
• 1/3 teaspoon black pepper powder
• 1/8 cup vegetable oil
• 2 tablespoons chopped parsley (cleaned and washed)
• 1/2 cup water


Yogurt Sauce
• 500 gm yogurt
• 1/2 cup tahibi (sesame paste)
• 1/2 cup water
• 1 1/2 teaspoons smashed garlic
• 1 teaspoon salt

Garnishing
• 1/4 cup pine seeds
• 1/3 cup skinless almonds
• 1 tablespon olive oil to fry nuts
• 1 teaspoon red chilli powder for garnishing

---
• Wash, peel and cut eggplants into slices or into big cubes.
• Season with salt, put in a strainer & set aside for 30 minutes to get ride of excess juices and dry them with kitchen paper towel.
• Heat oil in pan and deep fry eggplants and set aside.

Sauce
• Mix onions with minced meat and fry in pan until all juice evaportes.
• Add oil, peppers and salt. Cook for 10 minutes
• Add in tomatoes, parsley, pomegranate molasses and water
• Cook for another 10 minutes and set aside.

Yogurt Sauce
• Mix all ingredients for yogurt sauce together

Serving Arrangement
• Heat oil and fry nuts
• Line a layer of fried bread cubes at the bottom of dish
• Arrange a layer of fried eggplants and spread half of the prepared meat sauce.
• Put meat sauce over another layer of fried eggplants and pour over it the rest of meat sauce
• Top with yogurt sauce and garnish with fried pine seeds, almonds and red chili powder. Serve as a main dish or side dish.

---